Waseca County
Emergency Management
Site Navigation
Home
Past News
Email Alerting System
Amateur Radio Repeaters
APRS
Severe Weather Operations
Siren Information
Packet Radio
User Bookmarks
Spam Policy
County Maps
Waseca County Grid Map
Blue Earth County Map
Freeborn County Map
Le-Sueur County Map
Nicollet County Map
Rice County Map
Steele County Grid Map
Steele Northern 1/2 Map
Steele Southern 1/2 Map
Planning Documents
Storm Shelter Worksheet
SkyWarn
2013 Class Registration
Photos
2010/09/23 Flooding
Hazard Mitigation Plan
Complete plan (23 Meg)
Parts 1, 2, & 3 (5.1 Meg)
Parts 4 & 5 (1.5 Meg)
Parts 6 & 7 (1.3 Meg)
Appendices A-E (15 Meg)
CodeRED Emergency Notification
Waseca County Sheriff's Office has contracted with Emergency Communications Network to license its CodeRED high-speed emergency notification system. This system has the ability to deliver messages to a live person or an answering machine within a targeted area or the entire county quickly.
Click
here
for more information and to sign up.
Links
Waseca County
City of Waseca
Weather.gov
Storm Prediction Center
NWS @ Twin Cities
MN Skywarn Training Schedule
StormReady
MN HSEM
CoMinnesota CoRaHS
FEMA
Skywarn.net
Viking Amateur Radio Society
Contact Information
Mailing address:
Waseca County
Emergency Mangement
307 N. State St.
Waseca, MN 56093

Phone: (507) 835-0690
Fax: (507) 835-0548
Hours: 8:00am-4:30pm

Waseca County is a


county
Mail System Accept/Reject Statistics
Summary Report
Detailed Report
Website Software
PHP
PEAR
Apache Web Server
Firebird Database Server
MySQL Database Server
Open SSL
Mandriva Linux
Copyright/Trademarks
All trademarks and copyrights on this page are owned by their respective owners. Comments are owned by the Poster. The Rest Copyright © 1997-2011, Waseca County Emergency Management
LIABILITY DISCLAIMER
THERE IS NO GUARANTEE OF TIMELINESS, ACCURACY, OR AVAILABILITY OF THIS WEB SITE OR THE INFORMATION CONTAINED WITHIN. BY CONTINUING TO USE THIS WEB SITE, YOU AGREE TO INDEMNIFY AND HOLD HARMLESS WASECA COUNTY EMERGENCY MANAGEMENT (WCEM) AND ITS AGENTS OF ANY AND ALL LIABILITY RESULTING FROM YOUR USE OF THIS INFORMATION.
Spotter Information
Retreived from NWS: May 27, 2015 10:30
Valid 2015/05/27 04:18 - 2015/05/28 04:30
Skywarn spotter activation will not be needed.
Read the
NWS Version
or the
Local Copy
used to generate this text
There is not any news to report at this time.
Homeland Security
NTAS
Waseca County
NWS Alerts
Current NWS radar
Graphicast
Day 1 Convective Outlook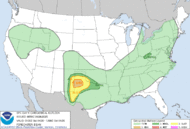 Day 1 Tornado Outlook
Day 1 Hail Outlook
Day 1 Wind Outlook
National Severe Weather Watches
All Minnesota Alerts
Currently Not Available
Today's Visitors
Timestamp - IP Address
80DB Error: unknown error
select remote_host, sum(bytes_sent) as sent, from_unixtime(max(time_stamp), '%H:%i') as last_visit from access_log where time_stamp >= unix_timestamp('2015-05-27 00:00:00') and virtual_host = 'wcem.co.waseca.mn.us' group by remote_host order by 3 desc [nativecode=1016 ** Can't open file: 'access_log.MYI' (errno: 145)]